We make getting your annual check-up easy
Virtual visit with at-home labs & vitals screening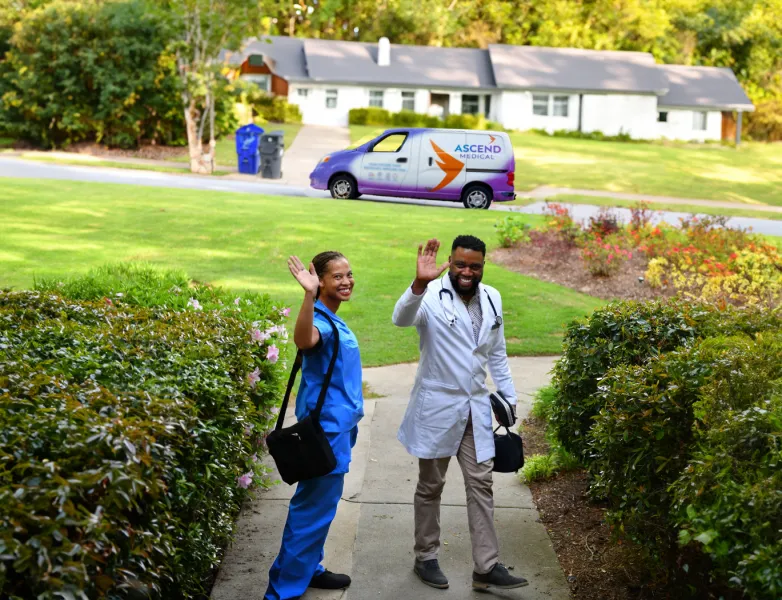 The vital role of annual checkups
You get your vehicle inspected... why not your body? Benefits include:
Early detection & diagnosis of health issues
Updating vaccines
Mental health assessment
Reviewing medications & refill needs
Navigating referrals & follow up care
In-Network
Insurances


Expected cost: $0 (with most plans)
How it works
1. Virtual visit
Establish a game plan. Discuss your health history, medical concerns and more. Your provider will determine what prescriptions, lab work, testing or immunizations you will need.
2. Lab & Vitals
If you are in our house call service area, our team comes to you at a convenient time. If not, no worries! Our providers will either partner with a local lab or send you an at-home kit for comprehensive testing and assessment.
3. Follow up
You have the the unique opportunity to have a one-on-one follow up discussion with your provider to discuss your lab results, any abnormalities and establish a customized health plan.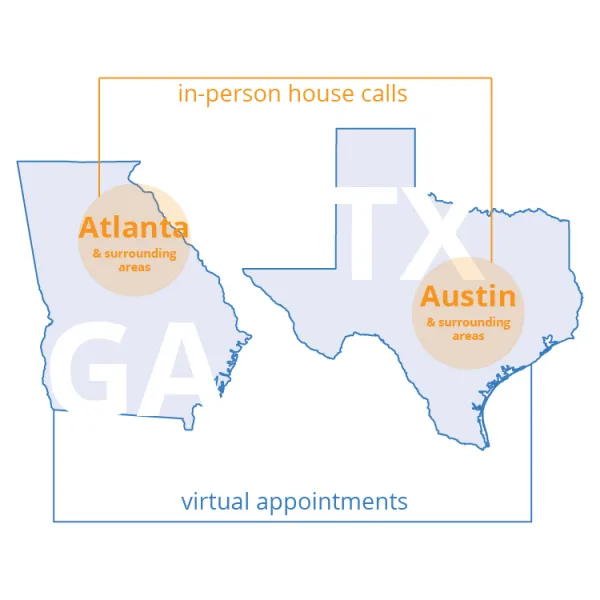 Serving your area
We provide several ways to
access care, no matter where you are
In-home services
We offer in-home services in the metro Atlanta and Austin areas, bringing the medical care you need to your home or office.

See if your zip code is covered
Telehealth services
Licensed in Georgia and Texas, our providers offer virtual care to residents throughout both states. Connect with a doctor from any device, anywhere you are.

Best patient satisfaction in the industry!
NPS rating of 97 vs. industry average of 58

I had my annual physical where the team came to my house to get my blood work and everything, then had my follow up visit with Dr. Peterson. She took the time to walk me through all my lab results which I really appreciated. Love how my time with the doctor never feels rushed with my Ascend appointments.

Judith J.
Absolutely LOVE Ascend medical. Excellent staff, so friendly, and helpful. Not to mention SUPER convenient. I don't have to travel anywhere for physicals - they come straight to you. Followed up by zoom Dr. appointment that I usually fit in between meetings. Best service I have come across in a while - thanks for everything you do!

Caryn V.
I have been searching for a new family physician and I found Ascend through my insurance company's database. I could not be more pleased! My first virtual appointment with Dr. Barlatt went very well. She was very thorough and direct with addressing concerns, making suggestions, and mapping out a plan of care. She took the time to explain things and made sure I understood. The practice is also mobile, so I will be having blood work done in the comfort of my own home later this week. I would highly recommend this group.

Sheronica T.
I am so glad I found this medical team. They are caring, courteous and kind and my experience was wonderful. I would recommend them to all my family and friends.

Sarah B.
Let's bridge the gap
with our convenient virtual & in-home model there is no reason to skip your wellness visits
80%
of Americans forego their annual physical
33%
of Americans do not have a Primary Care provider
94%
of physicians surveyed that annual checkups directly improve patient health outcomes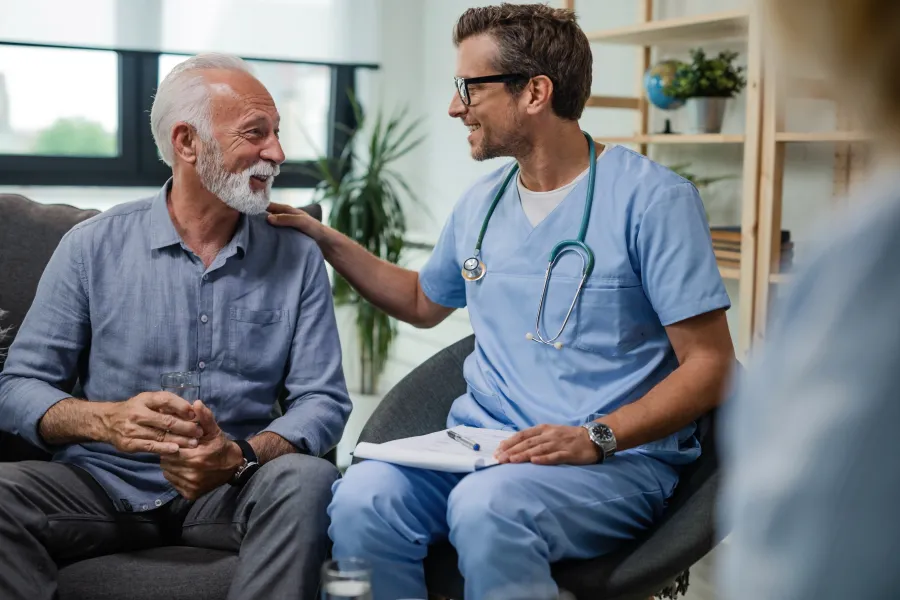 Ascend for employers
80% of Americans forego their annual physical. This means issues go unmanaged, more time taken off work, and increased medical spend. By partnering with Ascend, employers can bridge this gap by offering convenient access to quality in-network medical care. We make it simple with virtual checkups and in-network therapy as well as on-site services such as labs, bloodwork, vital signs, flu shot clinics and more.

Revolutionizing
primary care
Are you accepting new patients?

Yes, our providers are currently accepting new patients in the states of Georgia and Texas, starting at age 5 through seniors.
How much will I pay for my appointment?

We are in-network with most major insurances. Check to see if we are in-network

here

. If you do not see your insurance plan, please give us a call we would be happy to check your coverage over the phone.




The co-pay cost for your visit will depend on your specific insurance plan and deductible rates. For example, the average co-pay for an annual check-up is $0 however, this could vary based on your specific plan.

Your insurance provider is the best resource for accurate and up-to-date information about your coverage. They can clarify details such as deductibles, copayments, coinsurance, and any specific terms or limitations that may apply to your policy. Taking the time to contact your insurance provider will empower you to make well-informed decisions about your healthcare expenses, ensuring that you have a clear understanding of your financial responsibility.

Unlike many concierge practices, we do NOT charge costly annual membership fees for our patients to enjoy our convenient delivery model. Instead, we only charge a small $20 added mobile fee per location/appointment for any house call appointments. Outside of this small mobile fee for in-home care, we bill your insurance just like a traditional "doctor's office."

Are you uninsured? No problem, please contact our Health Concierge Team to discuss our self-pay options at 888-250-5708.

How can I find my telemedicine appointment link?

Our telehealth links are sent 24 hour prior to your appointment. They are sent via email and SMS text message. If you are unable to retrieve your link, please contact us at 888-250-5708.

How do I schedule an in-person house call?

The first step to scheduling a home visit is to complete a telemedicine visit first. During the telemedicine visit, our provider can assess your current health status, review your medical history, and discuss your symptoms or concerns in detail. This enables us to come prepared for the home visit with a clear understanding of your needs. If the provider determines in-person care is needed during your telemedicine visit, our team will schedule a house call ASAP!

How do I prepare for my Telemedicine Visit?

COMPLETE ALL FORMS in your patient portal! If you have trouble accessing your patient portal please give us a call at 888-250-5708
Medical Records: If you have any relevant medical records, prescriptions, or a list of medications you are currently taking, please have them handy for reference. If possible, please send your records to care_navigator@ascendmedical.com
Technology Setup: Please ensure that you have a reliable internet connection and a device (such as a smartphone, tablet, or computer) with a camera and microphone. This will allow you to interact with our healthcare provider seamlessly. If this is your first telemedicine visit with Ascend, enable your camera and microphone when you enter the virtual waiting room.
Create a Quiet Space: Find a quiet and well-lit area in your home for the telemedicine visit. Minimizing distractions will help you and our provider communicate effectively. We cannot see you if you are driving or unsafe.
Be Prepared to Share: Be open and honest about your symptoms, concerns, and any changes in your health. Remember, information shared between patients and medical providers is kept confidential. This will help our healthcare provider make informed decisions.

Questions: Feel free to prepare a list of questions or topics you'd like to discuss during the telemedicine visit.

How do I cancel or reschedule my appointment?

To provide the best care and accommodate the needs of all our patients, we kindly request that you provide us with at least 24 business hours' notice if you need to make changes to your scheduled appointment. This advance notice helps us ensure that we can make your appointment slot available to another patient who may be in need of medical attention.

To cancel or reschedule your appointment, please feel free to contact our office at 888-250-5708 during our regular business hours (7:00am-7:00pm EST). We understand that unexpected situations can arise, and we will do our best to work with you to find a more suitable time.

Please note, cancellations made with less than 24 business hours notice are subject to a cancellation fee. Our fees are $49 for medical visits and $99 for behavioral health appointments.



What are your business hours?

Our team is available by phone Monday-Friday 7:00am-7:00pm (EST)
What locations are in your service area?

Our providers are licensed to see patients virtually throughout the entire states of Georgia and Texas. For in-person house calls, our mobile teams service a large (approx. 20 mile radius) around the cities of Atlanta, GA and Austin, TX.

Check to see if your zip code is in our house call service area here

Remember, even if we do not service your zip code yet for in-person house calls, we can still treat you virtually and partner with local labs near you to get things in such as bloodwork or lab samples whenever needed!
We did not find your search. Please try another entry.